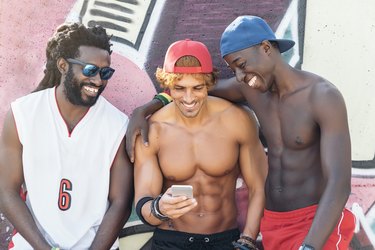 Through the use of different apps, the Apple iPhone can be used as a remote control for a number of different devices. The free application called iFun, developed by gaming company SGN, gives you the ability to use your iPhone as a controller for the Nintendo Wii gaming system. The application uses the iPhone's internal accelerometer and touch screen to control the action of your Wii game.
Step 1
Tap the App Store icon on your iPhone to launch the application, then tap the "Search" tab at the bottom of the main screen.
Step 2
Enter "iFun" into the Search box and tap the Search button. The iFun option will show up in the search results. Tap the option, then tap "Install." The application will automatically download and install on your iPhone.
Step 3
Press the "Power" button on your Nintendo Wii console to turn on the system.
Step 4
Tap the iFun app icon on your iPhone home screen, then tap the "Sync" button. The application will search for connectible devices, and the Wii system option will show on the results screen.
Step 5
Tap the Nintendo Wii option, then tap "Connect."