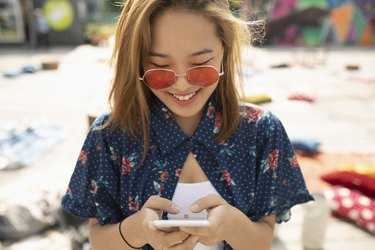 IMVU's social media app allows you to interact with others in a virtual world and even create and sell products like clothing for the avatars. You can have your IMVU account disabled voluntarily, by mistake or due to breaking the site's rules, and the process can cause you to lose your content in the game. IMVU doesn't guarantee that you can reactivate your disabled account, especially if you got banned. However, you may be able to reactivate your account through an email link or contact the support team to perform an investigation.
Reasons for IMVU Account Disabled
If you no longer want to use the site, you can voluntarily go to the IMVU delete account option and confirm with your password to disable your account. Your account can also get disabled if you lock yourself out due to entering the wrong password too many times or if someone else gets access and requests for the account to be deleted. IMVU may also disable your account due to a terms of service violation. For example, this may happen if you post inappropriate or stolen content, ask for others' passwords, steal credits or otherwise commit fraud.
Effects of a Disabled Account
Whether you get your IMVU account disabled voluntarily or through a ban, you typically receive a notification via email and can no longer log in to the site. Users lose any room they have created in the game. If others share a room with you, those players can't access it anymore either.
If you have a Creator account, what happens to your products in the game will depend on the reason your account was disabled and whether you can get it reactivated. If you simply used the IMVU delete account option or got locked out due to password issues, users can still purchase your products. However, if IMVU bans you for a terms of service violation, your content will become unavailable unless you can get the account reactivated within 30 days.
Using the Reactivation Email Link
If your account was disabled voluntarily or due to login trouble, check the inbox associated with your IMVU email address. The site usually sends a confirmation email that will have a reactivation link that you can simply click and regain access. However, you may not get this email if you never verified your account when you created it. If a long time has passed, the link may no longer work, and you'll have to reach out to IMVU support for help.
Contacting IMVU for Account Reactivation
If you had no luck using the reactivation link, or your account was disabled due to breaking the terms of service, requesting reactivation will involve submitting a support request on the IMVU website. To do so, you'll need to have an active account first. You can visit the IMVU homepage to make a new account using the social media login option, or you can sign up with a different email address than you used for your disabled account.
After creating and logging in to your new IMVU account, select your profile image on the top menu and select "Help Center" to see some options for connecting with support staff. If you have a VIP account, you'll see an option to chat live online with a support member. Otherwise, you'll need to submit an email ticket by clicking the "submit a case" link. Whether you choose the live chat or support ticket option, be prepared to provide information about your old account to the representative.
IMVU suggests giving your original IMVU email address and avatar name at a minimum when you submit the support ticket or chat online. A representative may ask for additional information such as your account creation date or the payment method you used to buy any premium products. After IMVU performs an investigation, you can expect to hear back, likely through email, about whether your account can get reinstated. If you have no success, you can always use your new IMVU account.