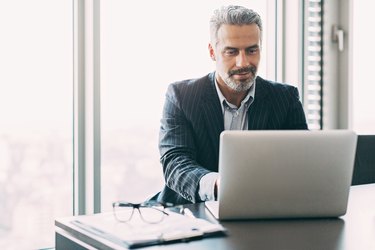 For Windows software and operating systems, product keys are typically 25-character codes used to activate a product you've purchased. These keys to the digital kingdom verify that you actually own the product in question, giving you a digital license to use stuff like Windows or Office. In the Office 365 era, product keys have largely been usurped by account systems (because you definitely need to remember your 2,000th unique password) so go ahead and dive into your new Microsoft Office software sans product key – the word-processing water is just fine.
Using a Microsoft Account
Commonly, Microsoft Office comes pre-installed on new computers. Whether you're dealing with Microsoft Office 2019, Office 365 or Microsoft Office 2016, product keys have largely become a thing of the past – so activating Office without a product key is actually the standard way to do it. Feel free to breathe that sigh of relief now.
With these iterations of the software, you'll sign in to or create a Microsoft account rather than use a product key. To get rolling with Office on your new PC or Mac, open the software for the first time and hit the "Activate" button. You'll be asked to enter your existing Microsoft account's associated email address and password, or you'll be able to create an account. If you're planning to activate a new version of Office soon, get a jump on creating a Microsoft account or updating your password at account.microsoft.com.
Dealing With Lost Keys
No one likes losing keys, whether it's your apartment fob, car keys or your Excel 2015 product key. If you're dealing with Microsoft software purchased before December 16, 2016, you may very well need that key.
If you purchased your software separate from your computer – the most common use-case scenario for product keys – check the label or card inside the box, assuming you still have it. Likewise, the key may be in the packaging of the PC itself (if it included the software) or on a related certificate of authenticity.
If you bought your copy of Office as a digital download, search your email's inbox; the product key for pre-Windows 10 software would have been emailed to you in a purchase confirmation message. Post-Windows 10, you'll typically be dealing with digital licenses, which use the Microsoft Account activation method.
If you come up dry, try contacting the retailer from which you originally purchased the software or, if Office was included on your computer, the hardware manufacturer. The "Get Help" option accessible via the Windows 10 start menu can also serve as a jumping-off point.
How to Reinstall Microsoft Office
OK, but what about reinstalling Office when you don't have a product key? No worries – for Office 365 and Office 2019 on both PC and Mac platforms, you can go totally key-less.
If you deleted or somehow otherwise lost the copy of Office that you previously activated, just head over to Office.com. At the site, sign in with your Microsoft account credentials – the ones you linked to Office when you first installed it – and download the software anew by clicking the site's "Install Office" button.