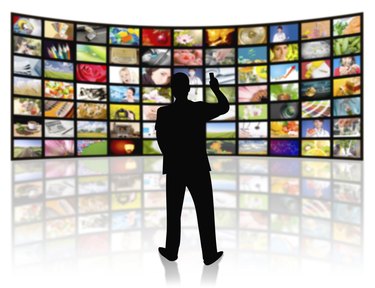 Pandora can bring a world of new music straight to your TV set and it only requires a little work on your remote and computer. Pandora's TV app works with LG's line of high-end TVs that use its "LG Smart TV" technology, including its three best-selling TVs at time of this publication: the 84LM9600, 42LN5700 and 55LA8600. These models may come with a webOS-powered remote, allowing you to point and click through the steps instead of scrolling with a directional pad.
Step 1
Press the "Home" button on your remote to access the Home menu. Navigate to the LG Smart World menu item and press "Enter." If you have a webOS-powered remote, simply press the "Home" button to bring up the Smart World menu directly.
Step 2
Navigate to the LG App menu and click on "My Apps." Select the Pandora application from the list. If you do not see Pandora initially, select the "More" option to see a list of all available apps and add Pandora to your selection.
Step 3
Select the Pandora app and press "Enter." Alternatively, if you have a webOS remote, point the remote at the Pandora app and click your "Select" button.
Step 4
Write down the website and the activation code listed on your TV screen. These are used to connect your TV set to your Pandora account.
Step 5
Navigate to the website provided on your computer or smartphone. If prompted, sign in to your Pandora account. Type in the activation code and press "Activate Now." At the time of publication, Pandora had a single website for all LG products.
Step 6
Go back to your LG TV and press "OK." Your Pandora account will now be live and you can listen to your stations directly from your TV set.