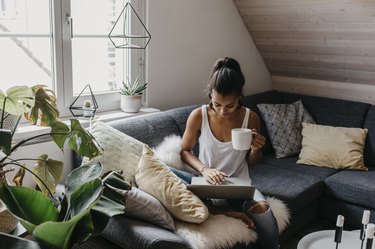 Windows Vista is now well past its supported life, but you may still need to activate it or reactivate it on an older computer. If you've installed some hardware upgrades, for example, you might be prompted to reactivate.
It's also crucial if you've used upgrade versions of Windows over the years since you first bought the computer, because you'll need to start with Vista if you wipe the hard drive clean and start over. The upgrade version of Windows 7 won't work unless you install it over a fully-updated Windows Vista.
If your product key decal has worn off the computer, or if you've lost the key along with the rest of your original documentation, there are a few ways to get back up and running.
Find Existing Windows Vista Product Key
If your computer is currently running, you can retrieve your product key from the Windows registry. Finding it manually isn't an option, because it's encrypted, but there are third-party programs you can use. These include ProduKey, MSKeyViewer Plus, SoftKey Revealer or the whimsically named Magical Jelly Bean Keyfinder.
The interfaces for these programs vary widely, so you'll need to read the documentation that comes with your specific program to learn how to use it. It shouldn't take long, because most of them are pretty simple. Just double-check before you start to ensure that the one you download will still work with Windows versions as old as Vista.

Once you've got your key, write it down and store it in a safe place for future use. Then you can activate Vista normally from your desktop, or by reinstalling it.
Ask Microsoft For a New Key
If you didn't record your product key before reformatting the hard drive, you can get a new, valid Windows Vista activation key directly from Microsoft. Start the activation process, but enter random numbers or letters where the product key should go. When it gives you the inevitable failure message, click "Change product key" and then choose "Use the automated phone system to activate."

A dialog box will pop up, where you can choose your location, and then the system will display local phone numbers you can call and other numbers used during the confirmation process underneath. Microsoft's automated telephone system will prompt you for the numbers displayed on your screen, then give you a set of Confirmation ID numbers to enter into the dialog box. Write them down, then enter them in the appropriate fields on your screen to complete the activation.
If the automated service won't give you a set of Confirmation ID numbers, just wait on the line for a human to pick up. The live operator will ask you a few questions to verify that you're reinstalling legitimately, then give you the numbers you need. This option might not be available if Vista came preinstalled on your computer, in which case you'd need to contact the manufacturer instead of Microsoft.
Extend Your Trial Period Indefinitely
If Microsoft won't help you, you still don't need to resort to some sort of dubious, illicit Windows Vista activation "crack." Microsoft allowed users to try Vista for 30 days without activating it, and a quick tweak will reset that 30-day counter so you can keep using Vista.
Click the Start button and type "Cmd" into the search box. When it brings up the Command Prompt icon, right-click it and choose "Run as administrator," or hold down the Ctrl and Shift keys while hitting Enter. You'll get a system prompt, which is just a black box with a flashing cursor. Type in "slmgr -rearm" without the quote marks, and then press Enter. After a few seconds, you'll be prompted to reboot, and your system will run normally for another 30 days.
You'll only get three renewals, so this is just a short-term fix, but you have the option of reformatting your hard drive and starting over again after the 120 days are up.