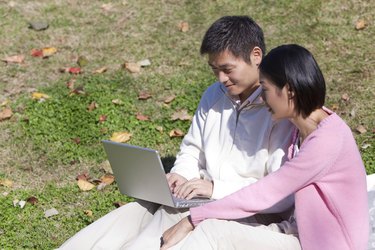 Regedit is the command used to launch the Registry Editor in Windows operating systems. A DWORD value, which stands for Double Word, is one of the five main data types handled by the Registry Editor. A DWORD value can hold a maximum of 32 bits. The registry displays these in decimal or hexadecimal values and are generally used for True and False or 1 and 0 functions. Adding a new DWORD value from the registry can be accomplished with a simple click. Proceed with caution when working with the Registry Editor because an error in configuration could jeopardize your system's functionality.
Step 1
Launch the Registry Editor by clicking "Start," typing "regedit" in the "Start Search" field and pressing "Enter" if using Windows Vista or 7. If using Windows XP, click "Start," "Run," type "regedit" and press "Enter."
Step 2
Expand the hive and keys where you wish to add the new DWORD value. For example, expand "HKEY_LOCAL_MACHINE," "SYSTEM" if you wish to add the DWORD under the "SYSTEM" key.
Step 3
Right-click the key to which you wish to add the new DWORD value. A pop-up menu opens up.
Step 4
Point to "New" and choose "DWORD Value" from the drop-down menu options. A new DWORD value displays on the right pane as "NewValue#1." Rename it by right-clicking it and choosing "Rename."
Step 5
Double-click the new DWORD value to enter the value you wish to assign to it. Choose the "Decimal" or "Hexadecimal" radio button under the "Base" section. Enter the desired value in the "Value data" text field and click "OK."
Step 6
Quit the Registry Editor utility.