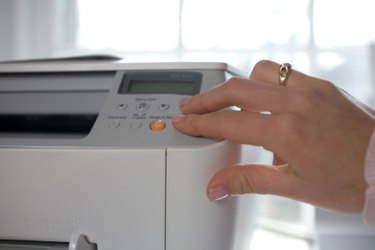 One of the best features of Microsoft's Vista operating system is its ability to be customized to suit user needs and preferences.
Most people are familiar with changing wallpapers or themes in Vista and other Microsoft operating systems. But there are other ways you can customize Vista, such as adding printers or frequently used applications to the toolbar. The toolbar is also known as the taskbar.
The major benefit of adding a printer to the toolbar is that you can easily control and configure it without needing to access the Control Panel.
Step 1
Click on the "Start" button after printer installation is finished. The "Start" button can be found on the left-hand side of the toolbar at the bottom of your Windows desktop. From the right-hand side of the menu that appears after "Start" is clicked, select "Control Panel" and click on it. In the "Control Panel" window that appears, you'll find icons for features of Vista and peripherals such as the printer, keyboard and mouse.
Step 2
Double-click on the "Printers" icon. A new window similar to the Windows Explorer window will appear. The printer that you just installed should appear as an icon in the right-hand part of the window, with the name of the printer clearly identified. Open the printer by double-clicking on its icon. A new window will appear.
Click on the "Printer" menu item that appears in the new window. Select the "Set As Default Printer" option. A check mark will appear next to the printer's icon to indicate it is now your default printer.
Step 3
Click once on the "Printer" icon, and hold down your left mouse button. Drag the icon to the toolbar, then release the mouse button. An icon for the printer will appear in the toolbar. Holding the cursor over the icon will identify it as a shortcut and indicate the printer model name.
Double-click on the icon. The same window that you saw when setting the printer as a default printer will appear. From this menu, you can set printer preferences, cancel or pause printing of documents and select other printing controls.
Tip
You can add more than one printer to the toolbar. It's a good idea to give each printer a unique name if you are using printers of the same model or type. This way, you can quickly identify the printer that you want to use.
A printer can be deleted from the toolbar by right-clicking on its icon and selecting "Delete" from the menu that appears.
Clicking on the printer icon will let you see at a glance the status of the printer and any print jobs that are in progress.
Warning
Deleting a printer from the taskbar will not uninstall a printer. The printer will still be accessible from the Control Panel.