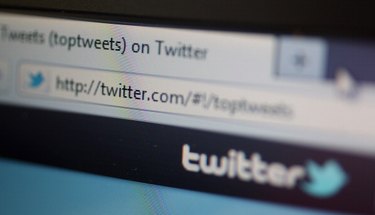 You don't have to know HTML to add a Twitter feed to your blog or website. Twitter's Resources page generates the code for you, even allowing you to customize the size and colors of the widget, and gives you a snippet of code to insert in a blog sidebar or static HTML page. These widgets work with any website hosting provider, although they're specially optimized for the Blogger service.
Step 1
Visit Twitter's Resources page (link in Resources). The link is available at the bottom of the right sidebar when you're logged in to Twitter.
Step 2
Click "See all widgets" under the Widgets column.
Step 3
Select "My Website" under the "Widgets for..." column.
Step 4
Choose which widget you want. You can create a feed of your own Tweets, Tweets containing a certain hashtag, your "favorited" Tweets or a group of users.
Step 5
Provide the requested information, such as the hashtag or username you want to track. Modify the appearance of the widget, if desired, by using the links in the left column; you can change the size, number of Tweets displayed, colors and other settings.
Step 6
Click "Finish & Grab Code." Copy the HTML code provided to your clipboard and paste it into your website's HTML code in the spot where you want the Twitter feed to appear. If you use Blogger for your website, click the "Add to Blogger" button to directly import the widget to your site without needing to copy and paste.