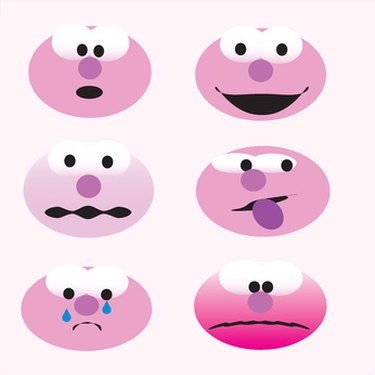 Add emoticons to an email to add personality, meaning and fun to the message. Emoticons are faces showing different expressions made from text. Some email programs change typed emoticons to an image of a smiley face to replace the text. The most commonly used emoticons are the smiley face ":)", wink ";)" and the tongue ":p". The symbols usually used at the end of sentences, but can appear anywhere. Emoticons can help emphasize particular emotions, which is difficult to do in some cases with written text.
Type
Step 1
Open a new email. Type the recipients email address in the sender box.
Step 2
Type the subject of the email in the subject line.
Step 3
Type your message in the main message box of the email template.
Step 4
Type the emoticons where you want them. Some email templates have a small menu by the text options that you can click to insert emoticons.
Download
Step 1
Open the web browser and go to a search engine website. Type "download emoticons" into the search box.
Step 2
Visit various links in the search results to find the type of emoticons you want. Locate the download link on the website that you choose.
Step 3
Follow the download instructions. A window pops up. Click "save" for the file to download. Open the downloaded file. Depending on your browser, it will be on the desktop or in a separate download window.
Step 5
Insert the emoticons into the email. Depending on the exact program you use, the emoticons are inserted through copy and paste, toolbar or embedded image. If emoticons can be inserted by copying and pasting, right-click on the image and choose copy. Place the cursor in the email where you want to insert the picture, right-click, and choose paste. If the program has a toolbar, click on the website's toolbar tool and choose the emoticon. To embed an image, look on the email's toolbar for an image embed option. It is usually an icon with a picture on it. Through the embed window, locate the image and insert it into the email.