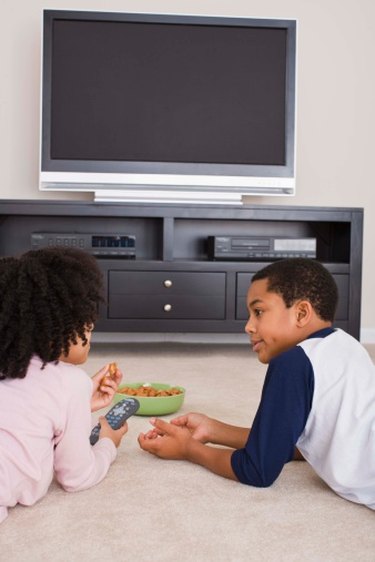 After placing your flat-panel LCD TV on a television stand, you may discover that the set just isn't high enough for comfortable viewing. Perhaps the stand was a gift or a hand-me-down from a friend. Rather than trash the stand, you can increase the height in several ways to raise the LCD screen to your preferred height. The main concern is making sure the base below the TV is stable so your expensive electronics won't tip over.
Step 1
Pull the TV stand out from the wall to look behind the unit. Check for adjustment brackets that would allow you to raise the height. If the stand is adjustable, lift the base to the desired height and secure with the fasteners unique to your particular TV stand. For example, some stands require you to loosen a pair of screws, raise the stand to the desired level and then tighten the screws again.
Step 2
Lift the LCD TV with the help of a friend to look at the bottom edge. If your set has mounting holes along the lower edge, connect a platform stand to these holes with the screwdriver, then place the set on your existing TV stand for increased height.
Step 3
Arrange glass bricks or other solid, aesthetically attractive objects on the top of the TV stand to add height. Cover the objects with a tablecloth or other decorative cloth to conceal them, if desired, then place the LCD set on top.