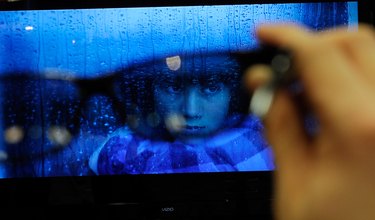 Vizio makes two lines of TVs: the M-Series and the E-Series. All Smart TV models have built-in widgets, called Vizio Internet Apps Plus, and you can choose free apps such as Yahoo Finance and News, or third-party apps to which you can subscribe, such as Netflix or Hulu Plus. There are hundreds from which to choose. The process for adding widgets is the same for both the 2014 M-Series and the E- Series.
Step 1
Turn on your Vizio M-Series or E-Series television.
Step 2
Click "V" at the center of your Vizio remote twice to open and view the full screen function of Vizio applications installation.
Step 3
Use the arrow buttons on your remote to navigate to and then highlight the widget that you wish to add.
Step 4
Press and hold the "OK" button on the remote control until a dialog box appears that indicates the app has been added to your My Apps list.
Step 5
Look for a star on the app that signifies that the widget you selected has been added to your list of active apps.
Tip
Choose "All Apps" to see all available widgets. You can also view the first four rows, which appear on the first page, on the Dock. Select "Categories" to narrow your choices. Spotify is only available on the M-Series as well as a newer full-screen version of the Amazon app.
Warning
You can only add widgets that Vizio has included in its library. You can preview an app before you install it; highlight the app and press "OK." Do not hold down the "OK" button on your remote or you will install it. Bear in mind that a number of widgets or applications -- such as Netflix, Amazon, Hulu and several others -- charge a monthly fee. The widget company automatically bills your credit or debit card until you go to their website and submit a cancellation request.