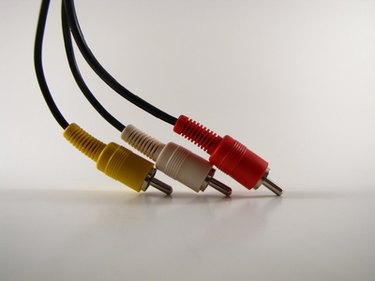 Portable DVD players with audio-video jacks can be hooked up to any TV with composite AV inputs to view discs on the bigger screen. Use a set of composite cables with the familiar, color-coded connectors that match the jacks on the TV. These RCA-type plugs hook up in seconds. Many TV sets are equipped with AV jacks on the front, which is convenient for temporarily hooking up a portable DVD player.
Connect to TV
Step 1
Turn off the power to the TV and portable DVD player.
Step 2
Connect the three plugs on each end of the cable from the matching color jacks on the portable unit to the AV inputs on the TV's front panel, or on the back if front jacks are unavailable.
Step 3
Plug in the power cord for the portable player so there's no risk of the battery dying while watching a movie on TV.
Step 4
Turn on the TV and push the source button on its remote control until the portable player's signal appears on the screen, often a display showing the name of the manufacturer.
Step 5
Load a DVD in the portable unit and play back normally.