Like most software, Adobe Photoshop CS4 occasionally connects to the Internet to find updates and validate that you have a legal copy. An update downloading in the background may slow down your Internet connection. To prevent CS4 from accessing the Internet, block the program through Windows Firewall.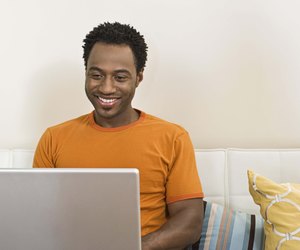 For PC
Step
Click "Start," and open "Control Panel."
Step
Select "Windows Firewall," and click "Allow a program or feature through Windows Firewall" from the side menu.
Step
Find Adobe Photoshop CS4 on the list and uncheck the box. Click "Remove" and then "Yes."
Step
Run CS4. If it asks permission to access the Internet, choose "no."
For Mac
Step
Load "System Preferences" from the "Apple" menu.
Step
Click the "Firewall" tab, and choose "Set access for specific services and applications."
Step
Highlight "Adobe," and click "-" to block CS4 from accessing the Internet.