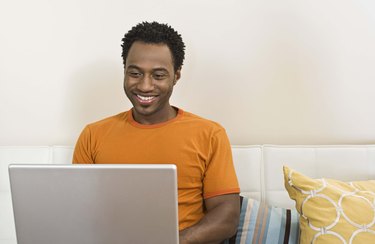 Like most software, Adobe Photoshop CS4 occasionally connects to the Internet to find updates and validate that you have a legal copy. An update downloading in the background may slow down your Internet connection. To prevent CS4 from accessing the Internet, block the program through Windows Firewall.
For PC
Step 1
Click "Start," and open "Control Panel."
Step 2
Select "Windows Firewall," and click "Allow a program or feature through Windows Firewall" from the side menu.
Step 3
Find Adobe Photoshop CS4 on the list and uncheck the box. Click "Remove" and then "Yes."
Step 4
Run CS4. If it asks permission to access the Internet, choose "no."
For Mac
Step 1
Load "System Preferences" from the "Apple" menu.
Step 2
Click the "Firewall" tab, and choose "Set access for specific services and applications."
Step 3
Highlight "Adobe," and click "-" to block CS4 from accessing the Internet.