FlexiSPY is a commercial application that allows third parties to remotely track your cell phone and gain access to private data such as your stored messages and call logs. You can remove FlexiSPY from your cell phone and prevent others from spying on your calls and texts by following a specific procedure. It won't do you any good simply to look for a running process named "FlexiSPY" or something similar, because FlexiSPY uses misleading names to keep itself hidden.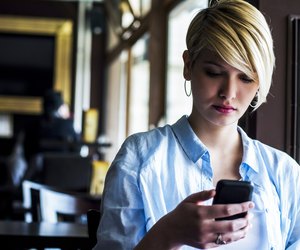 credit: NemanjaMiscevic/iStock/Getty Images
For BlackBerry Phones
Step
Open the Tools folder on your BlackBerry and select "App. Mgr" to open the Application Manager.
Step
Scroll down the list of running applications and locate the RBackupPro application. This is the misleading name used by FlexiSPY.
Step
Select "Options" and click on "Remove." Wait for your BlackBerry to finish removing FlexiSPY.
Step
Reboot your phone to finish the uninstall process.
For Android Phones
Step
Open the "Settings" application and tap on "Apps."
Step
Select the "Downloaded" tab and scroll down the list of installed applications until you locate the entry named "SyncManager." This is the misleading name used by the running FlexiSPY process.
Step
Tap on "SyncManager" and select "Uninstall."
Step
Reboot your phone.
For iOS, Windows Phone and Symbian Phones
Step
Launch your device's default marketplace application. The name of the application is "App Store" if you own an iPhone, "Zune Market" if you own a Windows Phone device and "Ovi" if you own a Nokia phone that is running the Symbian operating system.
Step
Search for a mobile malware-removal tool by typing "antivirus" or "malware removal" in the application's search box. Most mobile anti-virus applications can identify FlexiSPY as a known threat and remove it from your phone. Examples of common mobile antivirus applications are "Norton Mobile Security," "NetQin Mobile Security" and "Kasperspy Mobile Security."
Step
Tap on "Install" or "Download" once you have found a suitable anti-virus application.
Step
Launch the application and run a full scan of your phone's memory. Follow the onscreen instructions to remove FlexiSPY from your phone.