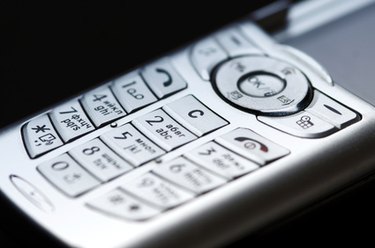 800 numbers are commonly associated with telemarketers and bill collectors. In some cases, the caller is a salesperson or representative from a company with whom you do business who is trying to "up-sell" you on a new service. All these calls can be annoying—especially when they come through on your cell phone. Federal laws regulate harassing phone calls. Some cell phone services, such as Verizon Wireless and AT&T, also allow you to block incoming 800 numbers on your cell phone in a few simple steps.
Step 1
Gather as much information as possible about the owner of the 800 number calling you. You can perform a reverse 800 number look-up online or enter the number into a search engine to get information about the owner. Keep the information in your personal records in case the calls start to become harassing or in violation of state or federal laws.
Step 2
Register your cell phone number with the National Do Not Call Registry. This registry will block telemarketers from calling cell phone numbers in addition to regular landlines. Enter your cell number and an email address where you can receive confirmation. If, after 31 days, you still get a call from an 800 number belonging to a telemarketer, report the 800 number on the same website where you registered the number.
Step 3
Log in to your personal account from your cell phone provider. Under "My Services," "Mobile Services," or a similar menu, look for an option that allows you to set your cell phone's "Blocking" features. If your company offers that option, enter the 800 number on your block list. The block is usually temporary—you have to renew it once it expires. This option is best if you have a short list of bill collectors or salespeople incessantly calling your cell phone.
Step 4
Call your cell phone company to ask about special privacy or spam-call blocking options for your account. The company might offer a paid feature to control certain calls to the line (as is the case with a parent who wants to manage and block certain calls to a child's cell phone). Inform the representative if you are being harassed by the 800 number. If the calls are threatening, the cell phone company's security department might be able to step in and help.
Step 5
Quote the Fair Debt Collection Practices Act to a debt collector who is in violation of the law. You can sue the company for violating this law. A bill collector cannot call you between the hours of 9 p.m. to 8 a.m., call you repeatedly in a harassing manner or use offensive language when they call your cell phone.