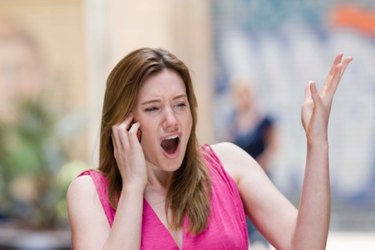 Vodafone Group PLC is a telecommunications company based in London that offers prepaid and post paid mobile phone service for business and personal consumers. Vodafone's Call Filter service allows subscribers to block unwanted callers and add as many numbers as desired to their personal Blacklist. All Blacklisted callers will hear the message "The Vodafone subscriber you are trying to reach does not wish to receive your call" when attempting to connect with your phone line.
Step 1
Dial "*514#" from your Vodafone mobile phone and press the "Talk/Send" button to connect your call.
Step 2
Select your language for the announcements from the language list and press "1" to subscribe to Vodafone Call Filter service. Activation may take up to four hours to complete, after which you can create your Blacklist. You will receive a text message notifying you that your service has been activated.
Step 3
Dial "*514#" from your Vodafone mobile phone and dial the Subscriber Truck Dialing (STD) code followed by the 10-digit phone number for landline phones. Dial the 10-digit mobile phone number to add a mobile phone to your Blacklist. Dial the prefix number and ISD code followed by the area code to add an ISD number.
Step 4
Disconnect your call after you have entered the numbers you would like Blacklisted. The Blacklist will remain the same and in effect until you remove the number(s) or disable the service.