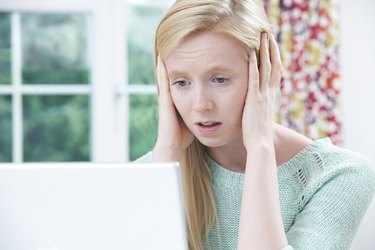 Anyone with access to an email address can register on Zoosk, an online dating service with headquarters in San Francisco. If you feel harassed by a Zoosk member or you think he is under 18 years old, block and report him to the company. You don't have to provide a reason for blocking a Zoosk user, unless you want to also report him. Blocked users can't send you messages, winks or requests. Furthermore, they don't show up in your Carousel or in search results. You can block users from the Web or from the Android or iPhone app.
Block Zoosk Users
To block a Zoosk user from the Web, log in to your Zoosk account and open the profile of the person you wish to block. To find a profile, use the Search function. Click the arrowhead next to the person's name and select "Report/Block" from the menu. Select a reason from the drop-down menu and click "Report" to report and block the user. To block him without submitting a report, select "Not Interested" from the Reason menu.
To block a Zoosk user from your Android or iOS mobile device, visit his profile profile, tap the "..." icon in the lower-right corner and then tap "Report/Block." Select a reason from the drop-down menu and confirm that you want to block and report the user.