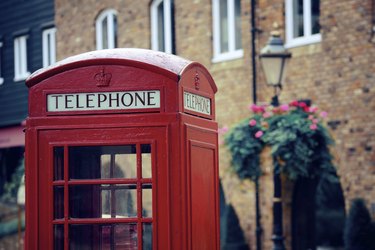 We are globally connected through email and Internet, but nothing replaces a good, old-fashioned phone call. Today's technology offers more options for dialing from the United States to the United Kingdom, but a few of the old rules still apply.
Decoding the Numbers
Just like U.S. phone numbers, U.K. numbers follow a specific format: +44 0000 000 000. They start with the number 44, which is the U.K. country code. Following the country code, a two- to four-digit city or mobile carrier code is used. This code provides geographic information similar to a U.S. area code. The final six digits are the specific phone number. All the necessary numbers should be included with the phone number. U.K. city codes can be referenced by going to www.countrycallingcodes.com and selecting the appropriate location from the drop-down menu.
Dialing Out
To place an international call, you must first dial the exit code for the country from which the call is made. The exit code for the U.S. is 011. When calling the U.K. from a U.S. landline, replace the plus sign at the beginning of the number with 011. However, if you are dialing from a cell phone, you may choose to dial the plus sign to begin your call.
Thinking Outside the Switchboard
Phone services have come a long way since the days of switchboard operators and rotary dials, but the basic principles remain the same if you're calling from a landline phone. Voice-over-IP options, however, make use of broadband and Internet technology to allow real-time voice and video calling. With a growing number of service providers and VoIP mobile apps, this technology is rapidly becoming a popular way to say "Cheerio!'
Considering Cost
When you're calling between the U.S. and U.K., there's one important factor to remember: cost. Landline and cell phone plans typically have different rates for domestic and international calls. If you'll be calling the U.K. frequently, you might consider looking into an international prepaid phone, such as the AT&T GoPhone. Other calling plans, such as the Vonage World plan, offer flat-rate calling to the U.K. from your landline and cell phone. If you choose to place calls using a VoIP service, such as Skype, inquire about any relevant charges before you dial.