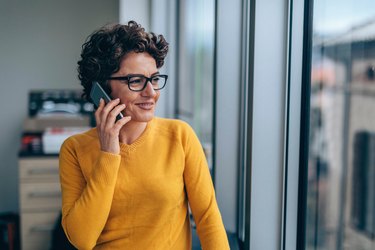 A toll free number is one where the person or company who is being called pays for any long distance charges. Generally, you can dial it the same as any other number from your mobile phone, but keep in mind you may be charged airtime or roaming fees. Some toll-free numbers, such as numbers for conference calls, may cost extra or be unavailable depending on your calling plan.
Toll Free Number Rules
A toll free number is one where the person being called, not the person placing the call, pays any long distance charges. They're often used by big companies for sales and support lines so their customers can call without worrying about boosting their phone bills.
In the United States, toll free numbers are in particular area codes no matter where the physical lines are located so that people can know that they're toll free. The first was area code 800, and toll free numbers are still sometimes generically called 800 numbers. Other newer codes include 888, 877, 866, 855 and, most recently, the 844 area code, then the 833 code, were created for toll free lines.
Some are called "vanity" numbers and have a number that spells out a memorable word, like 1-800-EXAMPLE, but these are dialed the same as any other number using the letter keys on a phone.
Cellphone Toll Free Calls
Normally toll free calls on cell phones are no different from making any other calls. Cellphone plans don't generally charge separately for long distance, so there's not always as much benefit to dialing a toll free number as opposed to any other number.
If you have a limited number of minutes in your monthly plan or pay roaming charges when calling from certain spots, you'll still pay at the same rate for toll free calls as non-toll free calls. The person you are calling will not absorb these charges. Some cellphone companies enable you to call customer service without any airtime charges, but these rules don't apply to third-party toll free lines.
Extra Charges for Certain Numbers
Some cellphone companies charge extra rates for calls to certain numbers, including toll free numbers. These often include conference call lines and similar numbers, like ones for religious services provided over the phone.
These calls cost more for the company to connect, which is how the free services are funded, and some phone companies pass the charges on to consumers. You'll generally get a warning message before such calls are connected.