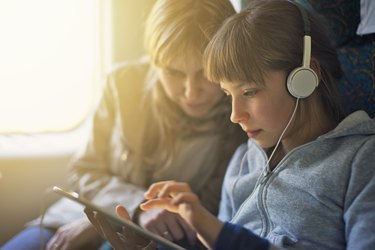 If you've lost interest in playing games on Steam or need to free up space on your computer, then you may think that the best solution is to simply delete your Steam account. Your Steam library may contain hundreds or thousands of dollars worth of games, and these will be lost if you pull the plug. Consider all of your available options before you learn how to delete your Steam account.
Deleting Some Games
If you're looking to cancel or delete because you've found that Steam is taking up too much room on your computer, you may want to reconsider. Account deletion is permanent, and you'll lose access to all the Steam games that you've purchased. You may find it more beneficial to just remove Steam games that you no longer play. Open Steam on your computer and click the "Library" tab in the top menu. Right-click on the game that you want to delete and click the "Uninstall…" option. Click "Delete" when asked if you'd like to delete game files. Repeat the process to uninstall any other games from Steam. Note that you can always download these games again in the future without having to pay for them again.
Delete Steam From Computer
Don't delete your Steam account if you think you may want to use Steam again in the future. You can uninstall Steam on your computer instead and take a temporary break from Steam gaming. How you delete Steam from your computer will depend on whether you're on Windows or Mac. You can delete Steam from your Windows computer by first exiting Steam and then clicking the "Windows" start button. Click "Control Panel" and then the "Add or Remove Programs" option. Click on "Steam" under the installed programs list and then choose "Change/Remove." Select "Automatic" when asked how you would like to perform the uninstallation, then click "Next" and "Finish" to uninstall Steam.
Deleting Steam from your Mac computer is a little more complicated. Exit the Steam app and then click on the "Finder" app in your Mac's bottom menu bar. Choose the "Applications" folder on the right side of the screen and then right-click the "Steam.app" icon. Click "Move to Trash." Go to the Library folder by clicking the "Magnifying Glass" in the top right corner of your Mac and typing in "Library." Choose the Library item that shows up under folders. Double-click on the "Application Support" folder within Library and then right-click the "Steam" folder. Click "Move to Trash." Right-click on your Mac's "Trash" icon and select "Empty Trash" to complete the uninstall process.
Delete a Steam Account
If you're ready to leave Steam behind for good, then you can just go ahead and delete your Steam account. Note that, while account deletion is ultimately permanent, you can cancel the account deletion within 30 days of your request if you change your mind. Delete your Steam account by going to steampowered.com and logging in to your account. Click the "Support" link in the top menu and then click "Account Issues" followed by "Manage Account Details." Scroll down your account page, click "Delete my Steam Account" and then click "Proceed to Account Deletion." You may be able to get refunds for some of your purchases by using Steam's Help Site to apply for refunds.