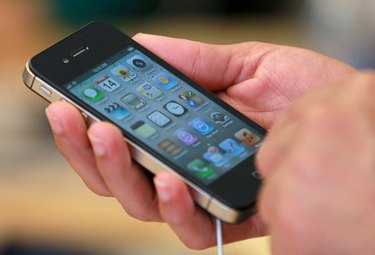 As you continue to add applications to your iPhone, the device will add menu screens to make room for the new additions. Although the ability to have numerous applications may seem beneficial, scrolling through your applications to find a specific one can be time consuming, and after a while aggravating. To save time, you can condense your applications by canceling or deleting an app from your iPhone menu. While they may be removed from your iPhone, they will remain in iTunes on your computer until you decide to add them back.
Cancel App from your iPhone
Step 1
Press the "Home" button on your iPhone, and slide your finger across the screen to unlock the device.
Step 2
Press your finger against the application you wish to remove from your menu until it starts shaking. Tap the "X" button in the upper-left corner of the app icon.
Step 3
Tap the "Delete" button on the dialog box, and tap "No Thanks" to bypass rating the app before cancellation.
Cancel App from iTunes
Step 1
Plug your iPhone's USB cable into the iPhone's bottom port, and connect the other end into an available USB port on the computer.
Step 2
Click "Start," "All Programs," "Apple" and "iTunes" to open iTunes on a PC. Click the "iTunes" icon on the dock for Macintosh computers.
Step 3
Click the "iPhone" tab in the iTunes sidebar and click the "Applications" tab.
Step 4
Uncheck the app you wish to delete, and click "Apply." Click "Remove" on the dialog box to confirm the removal.
Step 5
Disconnect the iPhone when iTunes displays the "iPhone sync is complete. OK to disconnect" message at the top of the application window.