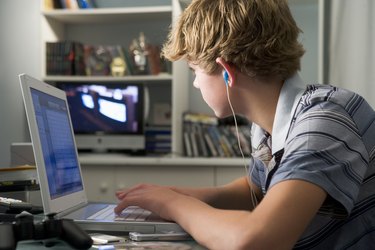 The VLC media player is an all-around media player that lets you play videos and music files stored on your computer's hard drive. The application also allows you to view the metadata associated with the songs you are listening to with the application. If you upload a song into the VLC application and the album art is incorrect, you can use the VLC application to change the album artwork to the correct image in a few simple steps.
Step 1
Double-click the "VLC" application icon to launch the application.
Step 2
Click the "File" tab and select the "Open File..." option from the menu. Locate the song file you want to change the album artwork for, highlight it and click "Open" to open the file in the VLC application.
Step 3
Right-click the song in the VLC application window and select the "Download Cover Art" option from the context menu. The correct cover art for the song will now be downloaded and saved in the song's metadata.