The wallpaper is the background image that shows behind the program icons, files and folders on your Microsoft Windows desktop. Changing this image to does not affect the way your programs function and only serves as a way to personalize your Windows experience. Advanced PC users can modify the desktop wallpaper in the computer's registry by locating and modifying the appropriate registry key.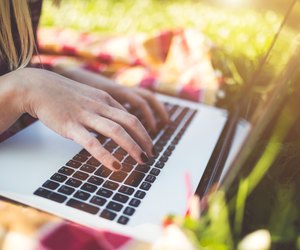 credit: SBDIGIT/iStock/Getty Images
Step
Press the "Windows" key and the "R" key on your keyboard simultaneously to display the "Run" dialog box.
Step
Type "regedit" into the text box and click "OK" to view your computer's registry. If you are prompted by the User Account Control, click "Yes" to allow edits.
Step
Double-click on the "HKEY_CURRENT_USER" folder to expand it.
Step
Expand the "Software" folder, "Microsoft", "Windows", "Current Version", "Policies" and "System" folders that are within the "HKEY_CURRENT_USER" folder.
Step
Right-click in a blank area of the key list and choose "New," then choose "String Value" to create a new string.
Step
Right-click on the new string and choose "Rename."
Step
Set the string name to "Wallpaper" and press the Enter key to save your changes.
Step
Right-click on the "Wallpaper" string and choose "Modify."
Step
Set the "Value Data" to the full path and file name of the image you wish to set as the wallpaper.