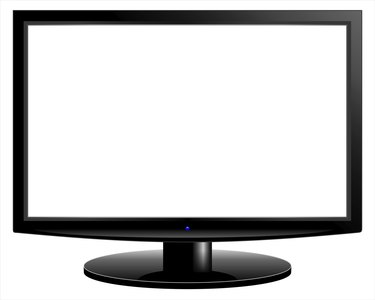 You can configure your basic display settings in Windows 8.1 with the Customize Your Display screen in PC Settings. If you're using more than one monitor, you can choose which elements are displayed on each screen. You can also adjust additional display settings -- such as color calibration -- with the Control Panel.
Adjusting Your Display in PC Settings
You can find your display settings for Windows in PC Settings. Swipe in from the right of your screen, or press "Windows-C," to open the Charms menu. Select the "Settings" charm and then "Change PC Settings" at the bottom of the panel to open PC Settings. Select "PC and Devices" and then "Display" to open the Customize Your Display screen. Use the settings here to customize your display, including adjusting your screen resolution, orientation, brightness and configuring multiple monitors.
Changing Your Screen Resolution
Windows automatically configures your screen resolution based on the monitor you're using. If you want to change your screen resolution, open your display settings in PC Settings. If you have multiple monitors, select the image of the monitor you want to adjust. You can adjust your screen resolution using the slider under Resolution. It is best to select the resolution marked with the text "(Recommended)." After you've selected a resolution using the slider, select "Apply." While most monitors support lower resolutions than their native settings, lower resolutions may hinder your ability to view content on your screen.
Configuring Your Settings for Multiple Monitors
You can identify multiple monitors by selecting the "Identify" button in the Display screen of PC Settings. You can also select the "Detect" button to manually detect another monitor that wasn't automatically found by Windows. Select "Portrait" or "Landscape" from the Orientation list to change the orientation for your selected monitor. Select one of the options under the Multiple Monitors list to configure what to display on each monitor. For example, select "Extend" to stretch your desktop across all monitors. Check the "Make This My Main Display" box to choose your main display for Windows.
Adjusting Your Display in Control Panel
While you can access your display options in PC Settings, you can also find additional settings in the Display Control Panel item. Press "Windows," enter "control panel" and then select "Control Panel" from the results. Click "Display," or "Appearance and Personalization" and then "Display," to open the Display Control Panel item. These settings are similar to the display settings found in PC Settings and may be more familiar if you're a desktop user. You can find additional options on the sidebar to the left, such as "Adjust Resolution" and "Calibrate Color."
Calibrating Your Display Colors
Color calibration helps ensure that your monitor is rendering colors accurately. Open the Display Control Panel item. Select "Calibrate Color" in the sidebar on the left to open the Welcome to Display Color Calibration page. Select the "Next" button and then follow the instructions and prompts to proceed through the calibration process. After you've calibrated your display, you will see the "You've Successfully Created a New Calibration" page. Select "Previous Calibration" to view your old display calibration and then "Current Calibration" to switch to your new calibration. Select "Finish" to use your new calibration -- or "Cancel" to revert to your previous calibration.