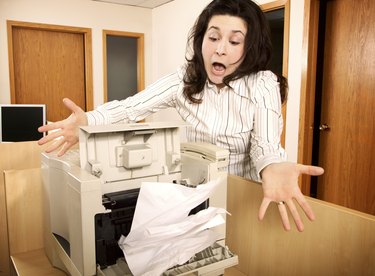 Although WordPad is not as advanced as Microsoft Word, it is free and comes with all Windows 7 and 8 operating systems. Unlike Notepad, WordPad can create documents in several different formats, including rich text format documents that can contain images, drawings and other objects. You may find that you need to change the margins in your WordPad document to prepare it for printing. Your printer may cut off or truncate some of the data in your document if your margins are too narrow.
Change the Document Margins
Open your document in WordPad, click the menu button and select "Page Setup" from the menu to display the Page Setup window. Change the "Left," "Right," "Top" and "Bottom" margins in the Margins section. Note that all margins are shown in inches. Change the paper size from the "Size" menu. To change the orientation, click "Portrait" or "Landscape" in the Orientation section. Check the "Print Page Numbers" box to print page numbers. Click "OK" to apply the new settings.