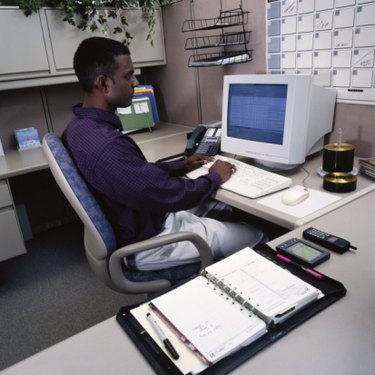 Microsoft Outlook has plenty of customization for you: you can create templates for new emails, adjust download settings for various folders and tweak the display options for your mail items. Adjusting the font within emails is usually straightforward, but changing the font of the subject line in a list of emails isn't as clear. Choosing a color you like for your emails' subject lines makes Outlook look just the way you want, and it shouldn't take more than a few minutes of your time.
Step 1
Open Outlook if it's not open already.
Step 2
Click the "Mail" section in the left-hand pane, and then click the folder where you want to make the font color change, such as "Inbox" or "Sent Items."
Step 3
Click the "View" tab at the top of the window, and then click "View Settings" in the "Current View" group.
Step 4
Click "Conditional Formatting ... "
Step 5
Click "Add," then type a name in the "Name" text box. You can use anything you want, including "Font color change."
Step 7
Click the drop-down box under "Color" and select the color you prefer.
Step 8
Click "OK" in the "Font" window and in the "Conditional Formatting" window. Outlook will inform you that you haven't created a condition, so this will apply to all items in this location; just click "Yes."
Step 9
Click "OK" in the "Advanced View Settings" window.
Tip
Different portions of your email section have different view settings -- for instance, your inbox will not have the same properties as your drafts. You may need to set up the conditional formatting a few times if you want to always have subject lines display in a certain color. You can change many other display settings in the "Advanced View Settings" window, including adding filters or selecting specific columns for the email lists.