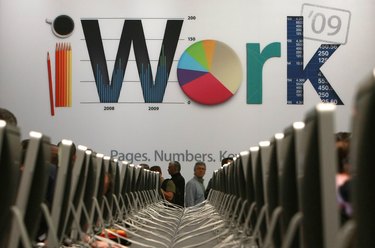 When you work on a document on your Mac using Apple's Pages application, such as a brochure, you might want to change the page orientation; for example, create it in horizontal landscape instead of vertical orientation. Pages is a desktop publishing program that comes included in Apple's iWork suite of applications, along with spreadsheet and slideshow presentation programs, that will allow you to change page orientation simply.
Step 1
Click "Applications" on the Dock of your Mac, click "iWork," and then click "Pages" to launch the application.
Step 2
Click "File" from the Pages menu, click "Open Recent" if you want to open a recent document, and then click the name of the document to open it. Or, click "File," "Open," and then click a folder on your Mac containing the document you want to open, click the file to select it, and click "Open."
Step 3
Click "File," and then click "New" to create a new document. The Template Chooser window appears. Click a template on which you want to base your new document, and then click "Choose." A new blank document appears.
Step 4
Click "Inspector" at the top of the Pages application window. The Inspector pallet appears.
Step 5
Click "Page Setup." A dialog box appears.
Step 6
Click an icon next to "Orientation" to change the page orientation, selecting either Vertical or Landscape mode.