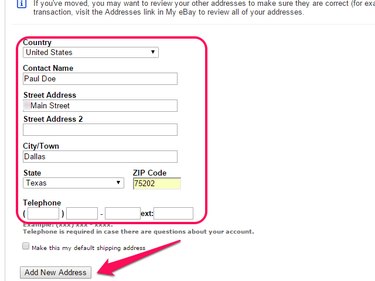 Because eBay does not allow you to edit your address after placing an order, you should make all necessary changes to your shipping address before purchasing an item. You can manage your primary and secondary shipping addresses from the Update Shipping Addresses page on eBay's website.
Step 1
Log in to eBay and visit the Update Shipping Addresses page. Click the Edit Address link next to it to edit the address. Fill out the form and select Ship to This Address to save your changes.
Step 2
Add a new secondary shipping address by filling out the form under Add a New Address on the Update Shipping Addresses page. Your primary shipping address is the one eBay displays by default during the checkout process and therefore should be the address where you plan on receiving the majority of your items. During the checkout process, however, eBay displays a Change Address link that supports shipments to an alternative address -- such as work or a summer house.
Select a country, enter your name, address and phone number and click Add New Address to finish adding your new secondary address.
Step 3
Click Delete Address next to one of your shipping addresses to delete it from your account.
Step 4
Select Make Primary next to one of your secondary shipping addresses to make it the primary address.
Tip
If you need to edit your shipping address after completing the checkout process, you must contact the seller to ask her to cancel the sale and refund your payment.
Modify your shipping address in eBay and purchase the item again to get it shipped to the correct address.
Some buyers only ship to addresses confirmed by PayPal. You can ask PayPal to confirm your address by filling out an application, adding a credit card to your PayPal account or applying for a PayPal Extras MasterCard card.