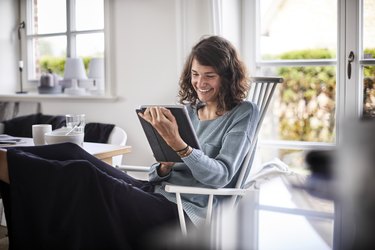 Whether you have difficulty seeing your iPad screen or just prefer to have large icons that are easy to tap, Apple provides a few solutions that depend on the version of software your iPad uses. While you won't find a specific iPhone icon size-change feature for phones, iPads running iPadOS come with the option to use one of two sizes by changing a setting. You can use accessibility settings on older iPads to zoom in and navigate the screen as needed, while newer models of the largest iPad allow you to enlarge the whole screen.
As long as your iPad runs iPadOS, you can easily switch between two iPad icon sizes. The default option shows 30 icons on the screen, but you can switch to larger icons that allow for up to 20 on your screen.
To change this, launch your iPad's Settings app and select Home Screen & Dock in the left panel to see an App Icons section on the right side of the screen with a small preview of the two options. Tap More to show the default app layout using small icons or the Bigger option for a larger iPad icon size. Return to your home screen to see if you like the new size, and know that you can always go back into the settings to switch back.
If you want the text beneath the icons to look larger as well, tap Accessibility in your iPad's Settings app left panel and tap Display & Text Size. Tap Larger Text and use the slider to adjust the text size and see the effect instantly. This changes the text size for everything on the device, not just for the text under icons.
Use Display Zoom if Available

If you have the 12.9-inch version of the iPad Pro and it's the third generation or later, you have an alternative to changing the iPad icon size. Apple has added a Display Zoom setting that magnifies the entire screen somewhat so that icons, apps, texts, buttons and everything else appear larger.
When you're in your device's Settings app, select Display & Brightness and tap View, which is set to Standard by default. Tap Zoomed and then Set to get a confirmation message about changing your view. After you confirm, your screen briefly goes black before you see your zoomed-in display. You can immediately select the Standard option to undo this if you don't like that view.
Consider the Accessibility Zoom Option

If you find your iPadOS 13 icons are still too small or you have an older iPad that lacks the option to change the icon size directly, you can use another option to zoom the screen on your device. This not only changes the iPad icon size but also acts as a magnifying glass that enlarges part or all of your iPad's screen. It's designed for people who have impaired vision, not just those with a preference for larger icons.
To enable this setting, go to your iPad's Settings app and select Accessibility. If you have an older version of iOS, this may appear under the General menu. Tap Zoom and set the slider next to Zoom to the On position. You can find options on the same screen to add shortcuts, specify a region, and alter the Zoom control settings.
By default, you use three fingers to control the zoom tool. You double-tap the screen with those fingers whenever you want to zoom and drag them to adjust the zoom level or move around the screen. The instructions appear with the settings, but you can change these control methods under the Zoom Controller option.