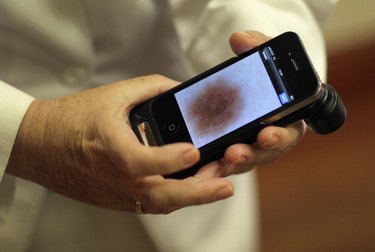 The display screen on the Apple iPhone automatically switches off after a period of time to conserve battery power and to prevent "screen burn" damage. When you press the "home" button on the front of the device, or the power button on top of the device, the screen springs to life again and displays the lock screen with your chosen screen saver, along with the time and date. If your iPhone currently displays a black screen saver – known as wallpaper on the iPhone -- you can change this from the phone's settings menu.
Step 1
Tap the "Settings" icon button on the home screen. Select "Wallpaper" from the settings menu.
Step 2
Select the lock screen option on the left. The option on the right controls the wallpaper for the home screen background, which sits behind the app icons.
Step 3
Tap "Wallpaper" to choose one of the pre-installed iPhone screen savers. Tap "Photo Library" to select one of your own photos as the screen saver.
Step 4
Tap the thumbnail for the image you want to use. You can reposition the image by moving it on the screen with your finger, or change the size of the image by making a pinch movement on the screen with your fingers.
Step 5
Tap the "Set" button. Tap "Set Lock Screen" to set the image as your screen saver, or tap "Set Both" if you also want to use the image as the background wallpaper on the iPhone's home screen. Push the home button below the screen to exit the settings menu.