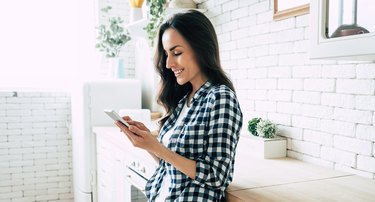 TracFone provides an affordable alternative for consumers who don't use their phones very often. You'll enjoy no contracts, activation or cancellation fees, but you'll need to keep up with your minutes if you're on a prepaid plan. To check the balance of your TracFone minutes, visit TracFone.com/balanceinquiry or download the TracFone My Account app for Android. You can also check your balance by calling or texting a certain number, which varies depending on the type of phone you have.
TracFone Check Balance Online
No matter which type of phone you have, you can always check your TracFone balance at TracFone.com/balanceinquiry. You can either log into your account or use your phone number to check your balance. You'll be able to see the details of your account, including your current airtime balance. If you have a smartphone, you can even check your balance at that site from your TracFone's web browser.
You can also get an update on your balance by text. Call 7771# from your TracFone and listen for your balance. This will only work if you have a GSM phone, though. For CDMA devices, text either the word USAGE or BALANCE to 611611. You won't have to pay for texts related to checking your remaining balance.
Check Balance on Android Phone
If you have an Android phone, you can check TracFone minutes through an app. You'll need to download the TracFone My Account app from the Google Play store. Your balance information will be divided into three parts: data, talk and text. Best of all, if you need to refill your balance, you can do it directly in the app.
In addition to helping you manage your remaining time, this app also monitors network quality for your service area, sending the information back to TracFone for improvement. The Wi-Fi Optimizer lets you locate and connect to the best nearby networks to help you save data by hopping on Wi-Fi. This could help you save money by allowing you to choose a lower-cost plan, especially if you spend the majority of your time on Wi-Fi.
Check Service End Date
As you use various TracFone check balance methods, you may notice mention of a service end date. This is the date on which your current service period ends. If you add airtime cards to your plan, that service date will be extended but if you allow it to end, your phone will be deactivated, and you'll lose your phone number.
For that reason, it's just as important to keep an eye on your service end date as your TracFone minutes. You'll find this information at TracFone.com/balanceinquiry or in the TracFone My Account app. Any airtime minutes you add to your phone don't expire, as long as you continue to use your phone and keep the number active.
Auto-Refill Enrollment
One way to avoid having to constantly worry about your TracFone check balance is to sign up for the company's auto-refill program. Instead of being unable to use your phone once you run your balance out, a new card will automatically activate, allowing you uninterrupted use. You'll also save a little when you purchase minutes through auto-refill versus buying a card and applying it to your account.
To sign up for auto-refill, go to TracFone.com/autorefill and input your phone number. At that point, you'll be given an option of plans, detailing cost as well as the number of minutes you'll get of talk, text and data for that fee. Once you've chosen a plan, you'll be prompted to add your valid credit or debit card number. If you need to add minutes to whatever plan you choose throughout the month, you can do so by purchasing an additional airtime card.