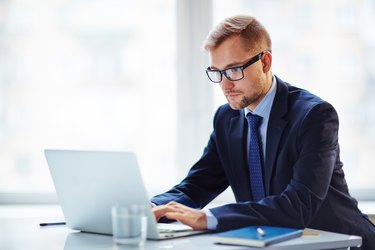 Windows Firewall is a security program that manages information that comes into your computer from the Internet or external networks. It is pre-installed on Windows 8.1 and 7 computers and is turned on by default. Depending on your settings, it blocks or allows access to your system, protecting it from malicious software and hacking. You can customize its settings, so it's worth checking them to ensure you're getting the right protection for your needs.
Open Your Firewall Settings
In Windows 8.1, select "Search" from the Charms menu and type "firewall" into the search box. You can also start a search from your Windows 8 desktop by typing "firewall." Select "Windows Firewall" when it appears in the search results. In Windows 7, click the "Start" button -- the Microsoft logo -- and then "Control Panel." Select "System and Security" and then "Windows Firewall" to open the information screen.
Check Windows Firewall Settings
The Windows Firewall information screen gives a snapshot of your settings for private and public networks. Your home computer is on your private network, and the public area is for network connections that you might access when you're away from home, say on a laptop. If the firewall is on, there is a green tick and badge next to the network name; if it's switched off, there is a red "X" and badge. Each network box contains a breakdown of individual settings that tell you how the program manages incoming connections.
Change Windows Firewall Settings
Use the side menu on the information screen to turn the firewall on and off and customize its settings. If it is on, it automatically blocks most connections; however, you can allow programs, features and apps by putting them on the allowed items list. If you select "Turn Windows Firewall On and Off," you can set it to block all connections -- this is most useful if you're using a public network. If you want to control connections, tick the notification box -- the firewall then tells you whenever it blocks a connection, and you can decide whether to allow it. Be warned -- if you turn the Windows Firewall off, your computer isn't protected unless you're running an alternative security program.