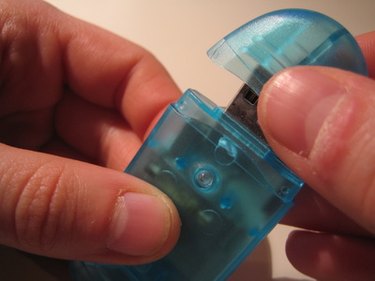 "Memory stick" is another term for USB flash drives, which are simply stick-like storage drives that you insert into your computer's USB port. They serve as easily transportable memory storage devices. Just like any other memory device, over time they can become cluttered with files you no longer need. If you want to completely erase a memory stick to make room for more files, the process is quite simple.
Step 1
Plug your memory stick into the USB port of your computer.
Step 2
Click "Start." Click "My Computer." Click "USB Drive" to view the contents stored on your memory stick.
Step 3
Click "Edit," which is located in the horizontal menu bar at the top of the menu. Click "Select All" to highlight all files and folders stored on your memory stick.
Step 4
Press the "Del" (delete) key to completely erase the memory stick.
Tip
Alternatively, right-click on one of the selected files and folders, and select "Delete" to completely erase them from the memory stick.
Warning
Unlike when you erase files and folders from your computer, erased files and folders from a memory stick are not temporarily sent to the Recycle Bin--they are gone forever (unless you have a backup stored on your computer).