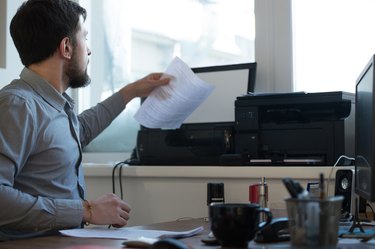 How to Connect a Printer using Bluetooth. Bluetooth is a powerful wireless technology that lets your computer discover and share devices. Connecting a printer using Bluetooth is simple.
Step 1
Make sure your printer is Bluetooth enabled. Some printers come this way (read the manual to verify) but others require adapters. Shop online or visit an electronics store to find an inexpensive Bluetooth printer adapter.
Step 2
Set up your adapter. All you need do is connect one end to your computer and the other end to your printer and it will install itself.
Step 3
Turn on the printer. Make sure it is connected to a working electrical outlet and the printer power is on correctly.
Step 4
Open Bluetooth devices on your PC. After installing your Bluetooth adapter, go to the control panel and open "Bluetooth Devices."
Step 5
Add printer automatically. This is less secure, but easier. From the options tab, make sure the options "Turn discover on" and "Allow Bluetooth devices to connect to this computer" are checked. Your printer and computer should then find each other automatically and begin working. If you'd rather not let other devices discover your computer, follow steps 6 and 7 instead.
Step 6
Add device manually. From the devices tab, select "Add Device" and run the installation wizard to find your printer.
Step 7
Use the "Add Printers" wizard. You can also add the printer by clicking "Start" and "Printers and Faxes" and then "Add a Printer." When the wizard pops up, select "Bluetooth printer" and Windows will search for your printer automatically.