Wireless printers take a lot of the hassle out of setting up a home office. No longer are you limited to placing your printer within range of a cable--now you can place it anywhere with a wireless signal. Hewlett-Packard (HP) manufactures a variety of wireless printers, each of which can be set up using a wireless router or as a standalone device. Either way, connecting your wireless HP printer is usually not difficult.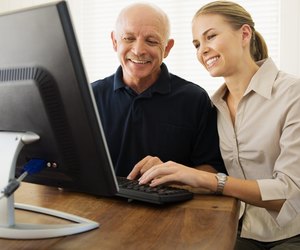 credit: Jupiterimages/Pixland/Getty Images
Using a Wireless Router
Step
Ensure that your computer's wireless card is active and that your wireless router is turned on. Insert the HP setup CD provided with your printer (if using a Mac, connect the USB cable first). When the CD menu appears, click "Install Network/Wireless Device." Follow the installer's prompts.
Step
Connect the USB installer cable to your computer and printer when the installer prompts you to do so.
Step
Click "Finish" to complete the install, open a document, and print it.
Using an Ad Hoc Network
Step
Ensure that both your computer's and your printer's wireless signals are active. (This is usually indicated by a lighted "radio tower" icon or similar symbol.)
Step
Open your computer's control panel and select "Network and Internet."
Step
Click on "Connect to a Network," located under the "Network and Sharing Center" heading.
Step
Select the network "hpsetup" from the list of available networks.
Step
Install the printer software using the steps from Section 1. Open a document and print a test page.