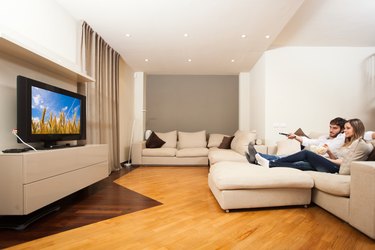 With Apple TV and iTunes, you can stream your digital media collection from a PC to an HDTV. If you only want to stream audio and video that you own to your TV, iTunes handles this job perfectly. However, to mirror your PC's display on your TV, you must install third-party software similar to Apple's AirPlay for OS X. Since iTunes content is DRM-protected, third-party mirroring software isn't compatible with iTunes, but you can use it to mirror other applications and websites, such as Spotify, Rdio or YouTube.
Streaming Content From iTunes
Step 1
Connect the Apple TV to your wireless network by selecting "Settings" from the main menu screen. Choose "Network" and "Configure Wireless," then select your network from the list of detected networks. When prompted, enter your password and select "Connect." The Apple TV connects to your network and displays a five-digit passcode for pairing your Apple TV with iTunes on your PC.
Step 2
Open iTunes on your PC and update it to the latest version by clicking "Help" and selecting "Check for Updates." If iTunes isn't installed on your computer, download the latest version from the Apple site.
Step 3
Click the "Apple TV" icon in iTunes Devices list, then enter the five-digit passcode displayed on your TV. When prompted, enter a name for your Apple TV and click "OK."
Step 4
Click "File," point the cursor to "Home Sharing" and select "Turn On Home Sharing." In the pop-up dialog, sign in to the iTunes account you want to share.
Step 5
Select "Computers" from the main Apple TV menu and choose your shared iTunes library from the list of accounts. Stream iTunes content to your Apple TV by selecting music, movies or pictures from the iTunes library displayed on your TV screen.
Mirroring Your PC's Display
Step 1
Visit the AirSquirrels site to download the latest version of AirParrot. As of May 2014, AirParrot is the only Apple TV mirroring software for Windows. Although it costs $9.99, you can download a trial version to ensure AirParrot works with your device before buying the software.
Step 2
Install AirParrot and restart your computer. Launch the software and click "Try AirParrot" to use the trial version for 20 minutes. Click "Allow" when prompted to open a port for AirParrot in Windows Firewall.
Step 3
Click the "AirParrot" tray icon and select your Apple TV from the menu. The Apple TV immediately begins mirroring your PC's display. For third-generation Apple TV devices, AirParrot usually works without any issues. However, older devices may not be compatible, so test AirParrot using the trial version before buying it.