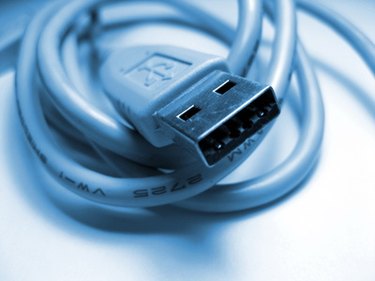 Dell Inspiron laptops are equipped with four standard USB ports to connect the computer to other devices, such as a Hewlett Packard printer. Newer HP printers also use a standard USB port for a straight connection with the laptop. Older printers with parallel ports (two rows of metal pins) can still be connected to an Inspiron, but a cable adapter is needed to convert the USB output from the laptop to a parallel input that the printer can process.
Step 1
Install the printer software on the computer by pressing the "Eject" button on the right edge of the Inspiron laptop to open the CD-ROM tray. Place the software disc in the tray and close. When the disc begins playback, click each on-screen prompt button to advance through the installation, then restart the computer when finished.
Step 2
Check the input port on the back of the HP printer to determine which cable to use. Connect a straight USB cable to the printer if it is equipped with a USB port. Otherwise, connect a parallel port plug on one end of the USB adapter cable to the back of the printer.
Step 3
Connect the USB plug on the other end of the cable to the Dell Inspiron using any available USB port. There are two ports stacked one over the other on the back edge of the laptop and two ports on the right edge of the laptop.