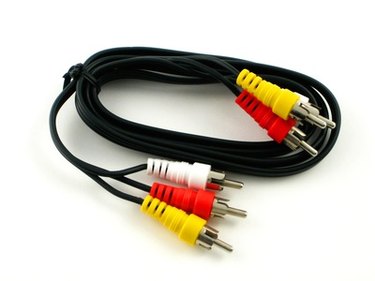 Although it is more difficult to connect advanced audio equipment to an analog televisions, connecting analog speakers to a digital television with many output options is quick and easy. Many digital televisions have the option to connect to one speaker or surround sound receivers. Using the standard RCA audio cables (also known as the Audio/Video cables) and adjusting a few settings on your digital TV, you can enjoy quality analog sound fused with a digital picture.
Step 1
Take the white and red audio RCA cables and insert them into the back or side of your digital television where it says "Audio Out."
Step 2
Insert the opposite ends of the RCA cables into the port labeled "Audio In" located on your analog receiver. The number on the analog speakers indicating the input that was used corresponds with the input number you choose in the audio settings of your digital TV set.
Step 3
Turn on the TV and go to the audio settings in the settings menu. Make sure the television is set to receive audio from the "Audio In" port you plugged the RCA cable into on the analog speakers. If connected correctly, you should notice the sound from the analog speakers syncing up with the picture on the TV.