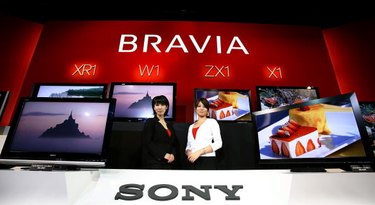 Spend quality time with loved ones while watching Netflix on your Sony BRAVIA television. Staying home to stream movies saves your family money while enjoying each other's company. With the Inernet-ready Sony television, it's easy to connect to the Internet and start watching your favorite shows. Your kids have access to their favorite animated cartoons at all times with the Netflix service. Activating and registering your devices is all it takes to get started.
Step 1
Register an account on Sony's My Essentials website if you don't currently have one. Viewing Netflix on your Sony BRAVIA television requires registration of the Internet Video on Demand service from the "Activate Enhanced Features" menu.
Step 2
Access the "Video" menu to open Netflix on your television. Select "Yes" if you are currently a Netflix subscriber, and write down the activation code. Select "No" to begin the subscription process, and then you receive an activation code.
Step 3
Go to the "Activate" Web page to enter the activation code provided by Netflix on your Sony BRAVIA television. Add movies to your instant queue.
Step 4
Select Netflix again from the "Video" menu on your television, and watch the movies you selected for your instant queue.