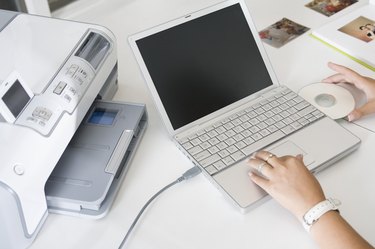 When you have a printer attached to a Windows network, you can attach to it either using a hardwired connection or a wireless connection. If the printer is available for other hardwired machines, then connecting to the printer on a wireless laptop or desktop is similar. For most people, a wireless laptop is used to connect to a small home or office network. As soon as you connect to the network on the wireless router, you can map to a printer location on the laptop.
Step 1
Click the Windows "Start" button and select "Control Panel." Double-click the "Printers" icon in the Control Panel. Double-click the "Add Printer" icon. The opening screen introduces you to the wizard. Click the "Next" button to get started.
Step 2
Select "A network printer, or a printer attached to another computer." This option is for any machine that needs to connect to a remote printer on the network.
Step 3
Enter the location of the printer. The syntax to connect to a remote printer is "\computer_name\printer_name."
The "computer_name" is the Windows name given to the machine that has the printer connected to it. You can find the computer name by right-clicking the "My Computer" icon on the desktop and selecting "Properties."
Step 4
Click the "Next" button. Enter a name for the printer and click the "Next" button again. The name you give to the printer is the one you will see in your printer settings.
Step 5
Click the "Print a Test Page" button to send a print job to the printer. Click the "Finish" button after a test page prints. You can now use this printer on your wireless laptop or desktop.
Tip
In place of the computer name, you can use the computer's Internet Protocol (IP) address when connecting to the printer in Step 3.