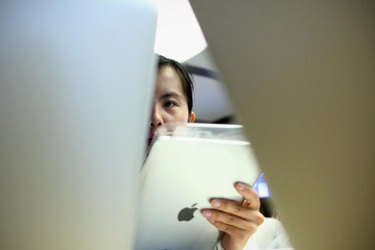 If you arrived late to the Apple portable device boom, you may be unfamiliar with even the simplest of required device functions. For instance, countless online help websites, including Apple's, instruct you to connect the iPad to a computer in order to sync the device with iTunes. But, if you cannot find the proper connectors or ports to plug in the device, you will not get far. Learn how to use your iPad's provided USB cable to connect the device to your computer.
Step 2
Run the installation software and follow the prompts to finish installing iTunes.
Step 3
Plug the wide connector of your iPad's USB cable into the power port on the bottom of the iPad.
Step 4
Connect the other end of the cable into one of your computer's USB ports. A USB port has a symbol resembling a three-pronged pitchfork with a square, circle and triangle at the tips of the spears. Once connected, iTunes loads.
Tip
If your computer does not recognize the iPad, plug the USB cable into a different port on the computer. The unresponsive USB port may be unpowered.
Make sure your computer is powered on before plugging in the iPad.
Your iPad charges when connected to your computer.
Once connected, you can set up a media sync. Click the iPad's listing directly beneath "Devices" in the left column of iTunes. Several tabs appear, including "Music," "Pictures" and "Videos." Click your desired tab and click the "Sync" box at the top of the main panel. When you have selected all the types of media you wish to sync, click "Apply" on the bottom-right corner.