If you are experiencing problems while using the eHarmony site or want to report a member, you can talk to an customer support representative either on the phone or by filling in a Web form.
eHarmony Customer Support
EHarmony lets you contact its customer support team either by phone or via an online form.
Tip
Before contacting eHarmony, consider visiting the company's Help Center and entering your question in the search field. You may be able to find the answer to your question in the site's knowledge base.
Phone Call
Contact eHarmony's customer support department by dialing 800-383-5313, Monday to Friday from 5 a.m. to 9 p.m. PST.
Online Form
Send a support request by visiting eHarmony's support site and entering your login credentials.
Tip
If you are not yet an eHarmony member, enter your email address and click Continue Without Login.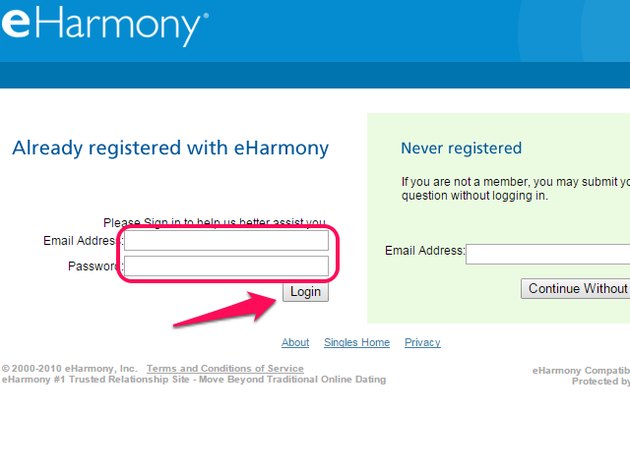 On the next page, enter your request, select an appropriate category and click the Continue button. Once you have sent your request, wait for eHarmony's customer support team to contact you by email.
Media Inquiries
If you are a member of the media, you can contact eHarmony by filling out the online form on the company's website.
eHarmony Affiliate Program
Like many other dating sites, eHarmony has its own affiliate program that lets advertisers earn money by sending potential new members to the site. Become an affiliate or ask questions related to the program by sending an email to ehaffiliates@eharmony.com.