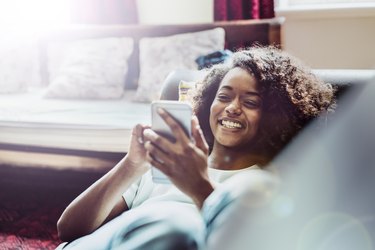 Husky tools have been around since 1924, but hopefully, your broken drill isn't quite that long in the tooth. Husky offers a robust warranty, but not that robust. Of course, you can't cash in on that warranty or get help with whatever Husky-related problem is irking you unless you can get in touch with Husky. Home Depot acquired the Husky brand in the early 2000s, so to get to Husky, you need to get in touch with the folks at Home Depot's customer service department.
The Husky Warranty
Before you contact the appropriate Home Depot department, it helps to know if your Husky tools are still under warranty. As of Home Depot and Husky's 2019 policies, here's how that warranty coverage breaks down for some of Husky's most common product categories:
One-Year Limited Warranty
Shop stools and chairs

Shop vacs
Jacks and jack stands
Jump-starters for batteries
Inverters
Two-Year Limited Warranty
Kneepads
Sawhorses
Magnetic floor sweepers
Pneumatic compressors
Pneumatic air tools
Plastic bins
Plastic toolboxes
Metal toolboxes
Rechargeable flashlights
Three-Year Limited Warranty
Job boxes
Truck boxes
Rolling tool-storage cabinets
Halogen tripod work lights
Rechargeable work lights
Air hoses
12-, 14- and 16-gauge extension cords
Pliers
Wrenches
Ratchets
Hammers
Sockets
Plumbing tools
Knives
Multitools
Garage wall cabinets
Garage floor cabinets
Garage base cabinets
Garage shelving
Track wall accessories
Wrench racks
Socket rails
Magnetic storage
Tire gauges
Flashlights
Husky Service and Support
Whether you have a hammer that Husky guarantees for life – which means you can bring it in to Home Depot for a free replacement should it ever fail – or you have questions about your out-of-warranty 60-gallon stationary electric air compressor, Home Depot offers a catch-all phone number for all things related to Husky brand service and support. Call the pros at 1-888-HD-HUSKY (that's 1-888-434-8759 if you don't have an alphanumeric keypad handy).
For more information on Husky tools, including the most up-to-date warranty details, product offerings, prices, online ordering and in-store pickup options, head over to HuskyTools.com.
More Contact Options
When you're dealing with the Husky brand or any other type of Home Depot toolboxes, supplies or gadgets, contacting Home Depot's customer service center is also a valid option, and you have a few options for doing so.
If you have a little flexibility with your response time, feel free to shoot a text message to 38698 (standard carrier rates apply) to a Home Depot customer service rep or email Home Depot at Customer_Care@homedepot.com.
If you want a more immediate, person-to-person experience, Home Depot's primary customer service phone number for purchases made in the store, including Husky tool purchases, is 1-800-HOME-DEPOT (or 466-3337). This number features a handy store locator if you're looking to shop Husky in-person at a brick-and-mortar location. That's not the company's only phone line. These other departments might apply to your Husky-brand purchases, too:
Online order support and gift card purchases: 1-800-430-3376
Consumer Home Depot credit card account customer service: 1-800-747-3787
Commercial Home Depot credit card account customer service: 1-800-395-7363

Commercial Home Depot credit card account customer service (revolving accounts): 1-800-685-6691
Customer service for government customers: 1-866-589-0690
Product recalls: 1-800-638-2772
Law enforcement inquiries: 1-770-384-4105 (or hd_investigations@homedepot.com)

Website feedback: 1-800-435-4654