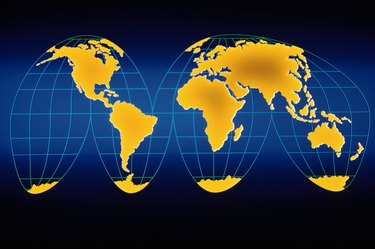 ArcMap prepares, manipulates and interprets geographic data through maps and geographic information systems, creating a map with layers of information about different points. It is the main component of ArcGIS from the developer Esri. ArcMap allows you to create a map and fill each point on the map with information relevant to that location, such as precipitation rates, literacy rates or elevations. To add this information, establish the areas on a map with which to associate the information, a process that requires creating closed polygons out of the lines that make up the edges of an area.
Creating a Geodatabase
Step 1
Open ArcMap and create a new map under the File menu.
Step 2
Select the SHP files containing your polyline data from the dialog box that appears as soon as you open a new map. ArcMap creates the new map with the polylines – a set of lines grouped together – from the selected file.
Step 3
Click on Data Management Tools in the main menu and then select Workspace and later Create Personal GDP under the sub-menus. This step will create a new geodatabase into which you can input the polylines.
Step 4
Select the output location folder for your geodatabase, give it a name, such as "example.mdb," and click on "OK."
Step 5
Click on Data Management Tools and then Workspace and Create Feature Dataset in the sub-menus. Set the output location to the database you just created, example.mdb, and name the dataset with a easy-to-remember name like "test." Click on the "Properties" button in the dialog box, and then import the SHP file containing the desired polygon data. Click on "OK."
Step 6
Select Conversion Tools in the main menu and then To Geodatabase and Feature Class to Geodatabase under the sub-menu options.
Step 7
Drag your SHP file with point data and the polyline SHP into the input box. Set the output geodatabase to the dataset you just created, example.mdp/test and click on "OK." This creates a dataset that associates your polylines with a specific point on the map. Refresh the map using your dataset to verify the results.
Turning Polylines into a Polygon
Step 1
Select Data Management Tools from the main menu, followed by Features and Feature to Polygon in the sub-menus.
Step 2
Select your polyline file from the dataset directory, example.mdb/test, as the Input Feature.
Step 3
Select your point file as the Label Feature and select a name for the output, such as "example_polygon." Click "OK" and refresh your map from the new file to see your polygon in place.