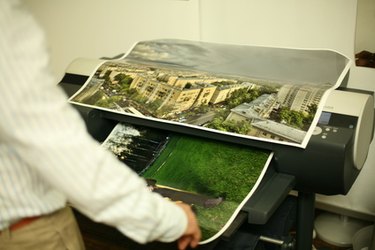 PrintMaster is a program designed to meet all your printing needs, ranging from calendars to greeting cards and any other document you see fit to print. However, other computer programs typically fail to read the PrintMaster file format. Because of this, you must convert it over to a separate format if you choose to view it on another computer that does not have the PrintMaster software.
Step 1
Launch the PrintMaster software and wait for it to load onto the computer.
Step 2
Click "File," "Open" and choose the PrintMaster file you want to save as an alternative document.
Step 3
Click "Tools," "Options" and "General Options," and check off the box next to "Optimal Printing Resolution."
Step 4
Exit out of the options menu, then select "File," "Printer Setup." Click the "Name" under the PDF Converter, then close out the printer setup options and choose "File," "Professional Printing" and "Save as PDF."
Step 5
Type in the name of the file and the location you want to save the file to. Select "Save As" and the file saves as a PDF document.