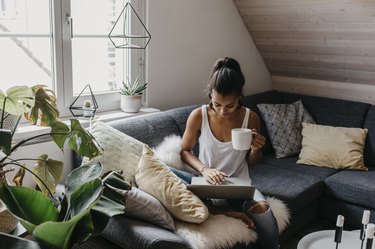 When you browse content on the web, you may be looking for a specific image or website that you can incorporate into a professional presentation or other multimedia experience. Given the wide array of content available on the internet today, developing a reliable technique for converting HTML to jpg will help ensure that you can enhance your portfolio of imagery as needed. Fortunately, this conversion can be accomplished relatively easily using a few simple steps.
Saving HTML as jpg, or Image Files
If the time comes when you need to convert an HTML document into an image file, you will have two primary tools at your disposal. These include the onboard "screen capture" function programmed into your operating system, as well as third-party software that automatically completes this conversion for you.
Using your computer's screen capture function may be the preferred option if you aren't planning on doing any extensive editing or manipulation of the JPG file created. This is primarily due to the fact that screen capture tools do not allow you to customize the specific resolution at which the screen is captured. Because of this, you may discover that the final image file created is not suitable for your projects.
Screen Capture Key Commands
To use the screen capture function, your first step should be to identify the specific key combination on your keyboard that executes this command. On Apple computers, you can instantly create a screenshot by simultaneously pressing the Shift + Command + 4 keys. After executing this key combination, your cursor should change to a draggable crosshair. By clicking and dragging the cursor, you should be able to select the specific area on the screen that you would like to include in the capture.
A floating dialogue box will also let you know the specific resolution of the tentative screen area you have currently selected. To complete the same process on a Windows computer, press the Ctrl + PrtScn keys.
Online Tools To Explore
In addition to the screen capture commands described previously, you can also use various online software resources to complete this conversion for you. This may be your preferred solution if you are seeking to create a higher-resolution image or you simply do not want to have to bother with the draggable selection tools mentioned previously.
Although a wide variety of software packages offering this service are available today, their core functionality is largely identical. Basically, users will be asked to provide the specific HTML file that they would like to convert. If you have found a website that you would like to convert, you can download the HTML content of the site by using the "Save As" command in your browser.
How to Convert HTML to Image for Free
Once the HTML file has been saved, you can upload this directly into the web service. From here, you should select JPG as your desired output. At this point, you should be given the option to immediately convert the HTML file into the desired image format. In some scenarios, you may actually be given additional options for converting the HTML file into various other image formats. This will, of course, depend entirely on the particular online service you are using.
It is also important to remember that some content may be protected by copyright. Because of this, you should also contact the original creator of the content before integrating it into any platform which is to be used for commercial purposes.