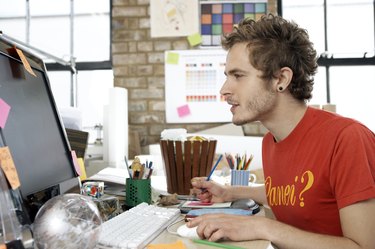 Microsoft Publisher is a desktop publishing program that allows you to create vibrant print publications, such as flyers, newsletters, brochures and business cards. Documents that can be created by Publisher can be used for more than just print publications; you can also turn them into high resolution graphics to be used within other documents, slide shows and websites. It is quite easy to turn any Microsoft Publisher document into a high resolution graphic.
Step 1
Open the document in Microsoft Publisher. Click on "File > Open" in Microsoft Publisher 2003 or earlier, or "Office Button > Open" in Publisher 2007. Find the document you want to open, click it once to highlight it and then click "Open."
Step 2
Click "File > Save As" in Publisher 97 to 2003 or "Office button > Save As > Other Format" in Publisher 2007 to save the file as another format.
Step 3
Click the drop-down arrow next to the "File type as" box and choose "JPEG File Interchange Format," "GIF Graphics Interchange Format," "Tag Image File Format," "Device Independent Bitmap" or "PNG Portable Network Graphics Format." Give the file a name (if it does not already have one) by typing it in the "File name" box. Click "Save."