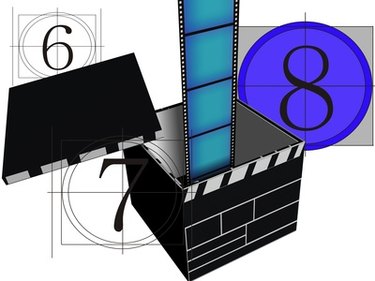 Adding PDF files to a video provides an interesting editing option for any multimedia project. Converting PDF files to still images for use in a video production is a simple procedure, given the proper software programs. Access to Acrobat Professional and a nonlinear video editing program, such as iMovie, Apple's Final Cut or Adobe's Premiere, is necessary to convert the PDF file into images for a video. Once converted, you can use the images throughout your production to emphasize the message of your video.
Step 1
Open the PDF file in Adobe's Acrobat Professional program, and select the appropriate page to add as an image to your video. Scroll through the document using the arrow keys on your keyboard, and click on anywhere on the page you wish to convert to an image.
Step 2
Export the page as an image to use in the video. From the "File" menu, select "Export," "Image" and then "JPEG." Also, select the location to save the image in the dialog box. Create a folder labeled "Video Images," and save each image of the PDF in this location.
Step 3
Import the images into your nonlinear video editing software program. This process varies based on the program, but it is usually achieved by going to the "File" menu, selecting "Import" and following the instructions in the dialog box.
Step 4
Place the images on your video timeline in the editing software program by selecting them with the mouse. While holding the mouse button, drag-and-drop them onto the timeline in the appropriate location in your video. Leave each image onscreen for an average duration of three to five seconds, which gives the audience a moment to pause with the image. Extend this time period if the PDF image contains text or an intricate graphic element or chart that may take more time to read.
Step 5
Render the entire video once all converted PDF images are added to the timeline and you are ready to output the video into a digital format. Place the "In and Out" markers at the beginning and end of your video, and select the "Render All" setting. Rendering the video will help the newly imported images blend with the existing video footage in the timeline.
Step 6
Export the video to the desired output settings for your project. Go to the "File" section of the editing program, select "Export," and follow the dialog box directions. This step varies depending on your editing program. Export your video in an MOV format for an uncompressed, original copy. Create several duplicate movies from this MOV based on the final location of your video. A DVD presentation will use an MOV file, giving the viewer a high-quality experience, whereas a PDA or iPod will use an MP4- or MPEG-compressed format with a loss in quality for easy and fast video playback.