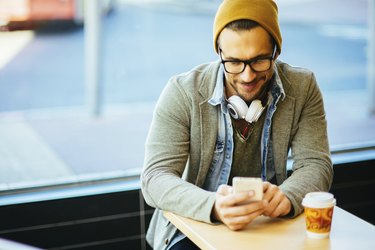 Accessing the Facebook social networking site on your Apple iPhone is a convenient way to communicate with contacts, friends and family while you're on the move. To save time, you can copy text from Facebook to paste into an email or another document, or copy text from a document and paste it into Facebook as a post, comment or status update. You can copy and paste in Facebook on the Apple iPhone by pressing and dragging on the iPhone's screen.
Step 1
Tap the Web browser application icon on the iPhone's home screen and go to Facebook.com. Alternatively, tap the Facebook app icon if you have downloaded the dedicated iPhone Facebook app. If prompted, sign in to Facebook with your usual user login and password.
Step 2
Locate the text that you want to copy from Facebook on your home page or profile page.
Step 3
Press you finger on the iPhone screen in the location of the text that you want to copy. Press until a light blue box highlights the selected section of text. A "Copy" button appears inside a black speech bubble icon immediately above the highlighted text.
Step 4
Tap the "Copy" button if you want to copy all the text automatically highlighted. Alternatively, change the highlighted selection by gently tapping one of the dark blue dots on the outer edge of the highlight box and dragging the highlight to cover the section of text that you want to copy. When you've selected the correct section of text, tap the "Copy" button.
Step 5
Find the section of Facebook into which you want to paste text – for example, a status update or a comment on a friend's post.
Step 6
Press your finger on the iPhone screen in the comment, status update or post input field until the cursor appears in the input box, the magnifying glass icon appears and the "Paste" button displays above the cursor.
Step 7
Tap the "Paste" button to paste the text into the input field. When the text displays, you can edit or add to it in the usual way with the controls and keys on your iPhone keyboard display.