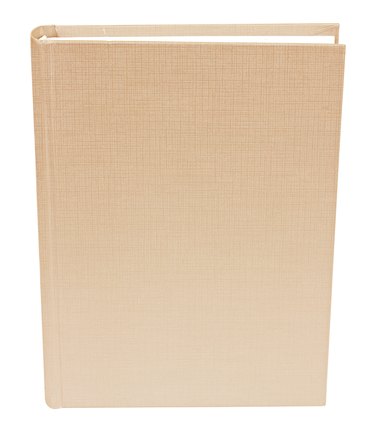 If e-books and e-readers just can't replace the feeling of cracking a spine and holding a real book in your hand, let Microsoft Publisher help you customize your own book cover. With Publisher, you're able to put your book's best face forward with complete control over the images, colors and text placement for your next novel or memoir. Be ready for when the world judges your book by its cover with Microsoft Publisher.
Step 1
Launch Publisher 2013 and click the "More Blank Page Sizes" button. Click the "Custom" button and enter your book cover dimensions. Brainstorm the type of book you're designing for. For example, a trade-size paperback will be larger than a mass-market paperback romance novel, but smaller than a large hardcover. Enter the dimensions on the "Create New Page Size" window and click the "OK" button.
Step 2
Click the "Page Design" tab, then click the "Background" button. Click the "More Backgrounds" link to open the "Format Background" window. Use this to give your book cover a full page design. Click the "Solid fill" radio button for a single color background, or experiment with "Gradient," "Pattern" or "Texture fill" for eye-catching designs. Choose "Picture fill" if you have a full-size image to use for the background, such as a beach scene.
Step 3
Click the "Insert" tab and click the "Draw Text Box" button on the ribbon. Draw a box near the top or bottom of the cover where you want the title to be. Type the book title. Click the "Home" tab and use the Font area of the ribbon to format the next. Keep in mind the text should be clear and easy to read, especially if you have a competing background design. Make light text on a dark background or dark text on a light background, and make sure the size of the text is readable for someone standing a few feet away in a bookstore.
Step 4
Add another text box and type your name, then reformat the text in the same way, with your name slightly smaller than the book title. Add any additional text boxes, such as author blurbs you've received, awards or nominations, or text about the book being a sequel or part of a trilogy.
Step 5
Click the "Pictures" button on the Insert tab's ribbon. Browse to an image to use for the book cover and double-click it. This is something you can do instead of making an image as the full-size background. This is also a way to insert an author photo or book company logo. You can also click the "Online Pictures" button on the ribbon and search for clip art to use for the cover, but make sure to choose something that stands out and isn't too generic, so readers understand what your book is about.
Step 6
Save the file. It may be helpful to print out the book cover and tape it to a book of similar size. Hold it out at arm's length and see what grabs you, and which elements might be missing or unclear, then make any adjustments as needed.
Tip
When you're preparing your book for printing in multiple sizes, it's best to recreate the document in its entirety with the known dimensions, instead of just resizing through Publisher's Page Design "Size" menu. If you do it that way, your items may get skewed, left off the page, or jumbled together. If you're upscaling from mass market paperback to hardcover, you could end up with too much room on the page. Simply repeat the process once you've set up the document size, then add your text and images again.
To make an entire book cover and not just the front, set up Publisher's page size menu to reflect a much wider document, as you'll need space for both the back and front cover, plus the spine and two flaps. Getting exact dimensions from your printer is essential here to ensure that no text or pictures run into the gutters or are cut off by the folds.
Warning
These instructions are written for Microsoft Word 2013 users. Earlier or later versions of the software may behave differently.These instructions are written for Microsoft Word 2013 users. Earlier or later versions of the software may behave differently.